Multiseed Farmhouse Loaf
Warburtons Gluten Free
A blend of seeds make up this delicious farmhouse loaf, which is full of texture and flavour We use a blend of poppy, linseed, sunflower and millet seeds to bake our Warburtons Gluten Free Multiseed Farmhouse Loaf. The result is a deep, rich flavour, a deliciously crunchy texture, and a wonderfully tempting aroma. What's more, it is high in fibre, low in saturated fat, a source of protein and low in sugar, and just two slices will provide half your daily calcium needs.
Temporarily out of stock.
Delivery Information
Allergen information
For allergens, see ingredients in bold. Contains Egg. Gluten Free. Wheat Free. Milk Free.
Ingredients
Water, Tapioca Starch, Seed Mix (8%) (Sunflower Seed, Linseed, Millet Seed, Poppy Seed), Potato Starch, Maize Starch, Rapeseed Oil, Yeast, Egg White Powder, Stabiliser: E464; Sugar, Vegetable Fibre (Psyllium), Fruit Extract (Carob and Apple), Calcium Carbonate, Salt, Humectant: Vegetable Glycerine; Preservative: Calcium Propionate; Caramelised Sugar, Natural Flavouring, Iron.
Nutrition information
Typical Values
Per 100g
Per average slice (35g)
Reference Intake (Adult)
Energy
1135 kJ
397 kJ
8400 kJ
270 kcal
95 kcal
2000 kcal
Fat
10.1 g
3.5 g
70 g
of which saturates
0.9 g
0.3 g
20 g
mono-unsaturates
4.5 g
1.6 g
polyunsaturates
4.2 g
1.5 g
Carbohydrate
34.9 g
12.2 g
260 g
Of which sugars
2.2 g
0.8 g
90 g
Fibre
6.5 g
2.3 g
Protein
6.7 g
2.3 g
50 g
Salt
0.80 g
0.28 g
6 g
Calcium
572 mg (72% NRV*)
200 mg
800 mg (NRV*)
Iron
2.9 mg (20% NRV*)
1.0 mg
14 mg (NRV*)
*NRV = Nutrient Reference Value
Contains 16 slices
Recommended Products
Multiseed Loaf (GF)
£ 1.80
High Protein Wraps with Super Seeds (GF)
£ 2.79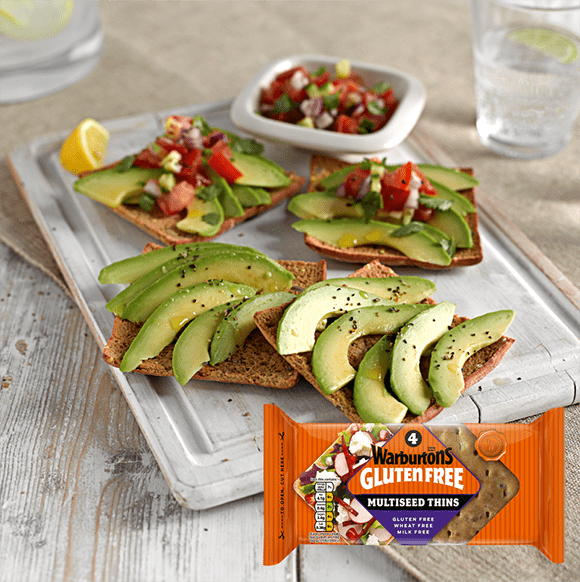 4 Multiseed Sandwich Thins (GF)
£ 2.30