Apricot Cheesecake
Paul UK Limited
The slight tartness of apricots is the perfect complement to the velvety richness of this elegant cheesecake. It has a speculoos biscuit crumb base and is topped with a circle of apricot halves, finished with a pretty, transparent orange-tinted apricot glaze. Serves 6 – 8.
Delivery Information
Allergen information
Gluten - Wheat Milk - Yes Egg - Yes Soya - Yes Fish - Yes Dietary Requirements: No dietary requirement found for this product. PAUL offers products containing peanuts, tree nuts, soy, milk, eggs, wheat and other allergens. While we take steps to minimise the risk of cross contamination, we cannot guarantee that any of our products are safe to consume for people with allergies. Please contact customerservices@paul-uk.com for more information.
Nutrition information
| Typical Values | Per 145g | Per 100g |
| --- | --- | --- |
| Energy (kJ) | 2060 | 1373 |
| Energy (kcal)  | 492 | 328 |
| Fat (g)  | 32.1 | 21.4 |
| of which are Saturates (g)  | 19.4 | 12.9 |
| of which are Trans fat (g) | 0.6 | 0.4 |
| Unsaturated fat (g) | | |
| Cholesterol (g) | 24.5 | 16.3 |
| Sodium (mg) | 330 | 220 |
| Salt (g)  | 0.9 | 0.6 |
| Total Carbohydrates (g)  | 44.3 | 29.5 |
| of which are sugars (g)  | 33.9 | 22.6 |
| Fiber (g) | 0.8 | 0.5 |
| Protein (g) | 6.5 | 4.3 |
Recommended Products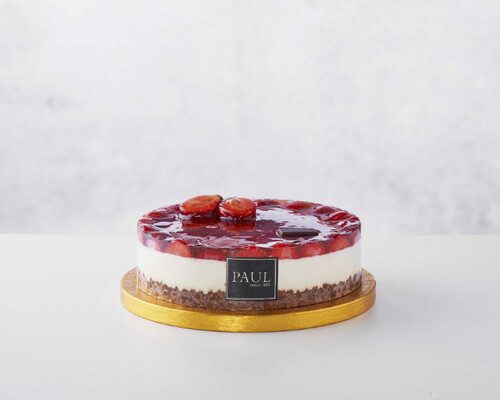 Strawberry Summer Cheesecake
£ 20.95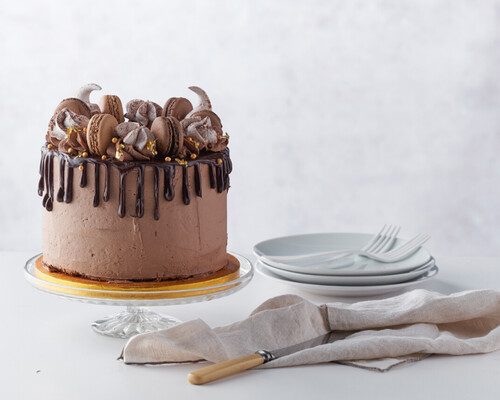 Chocolate Macaron Cake
£ 46.95